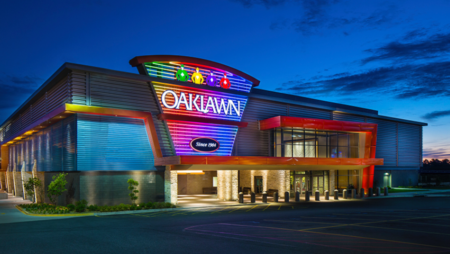 The Arkansas Racing Commission overwhelmingly adopted revisions to the state's gambling regulations on Thursday to allow local casinos to offer mobile sports betting, including giving existing casinos 51 percent of the revenues when they join with internet bookies. 
The Arkansas Legislative Council, which will convene on Jan. 28, must now adopt the rule revisions. 
The commission meeting lasted more than two hours, including a public hearing on the topic. The commission heard from eight speakers, including officials from the state's casinos and a sports betting firm. 
The Racing Commission received around 800 letters and emails from the public, with the majority opposing sports betting as a whole, Racing Commission counsel Byron Freeland told commissioners. 
Arkansas' 51 percent share with established and regulated casinos stands it apart from the rest of the country, while the typical proportion with local casinos is five-15 percent. 
When it was revealed that sports betting would be permitted in Arkansas, John Burris of the Capitol Advisors Group, which represents online sports betting providers DraftKings Inc., FanDuel Inc., BetMGM, Fanatics, and Bally's, stated they were ecstatic. 
On the other hand, Burris requested commissioners change the regulation to enable sports betting operators to negotiate the split directly with casinos. The casinos have full authority over whether they "accept or reject" the offer. 
Is the Split Good Enough?
Oaklawn Racing and Casino Resort General Manager Wayne Smith wrote to the Racing Commission on Dec. 21 that out-of-state sports wagering providers often expect them to get 85 percent to 95 percent of net income, leaving just 5 percent to 15 percent for local casinos. 
In the letter, Smith expressed his conviction that many out-of-state sports wagering suppliers' ultimate purpose is to compile a secret client database for sports betting and other sorts of gambling. 
The need for a 51 percent share, according to Andrew Winchell, head of political relations for online bookmaker FanDuel, would make it difficult to introduce "first-class offerings" to Arkansas gamblers since most top brand operators would be removed. 
Saracen Casino Chief Market Officer Carlton Saffa told the commission that fee structures are already built into several gambling laws throughout Arkansas. Existing Arkansas casinos already have profit-sharing agreements with other games, such as slot machines, that give the casino about 80 percent of the profit.
Can They Have More Than Two Applications?
Another condition that sports betting providers objected to was the Racing Commission's requirement that each casino licensee furnish no more than two independently branded online sports platforms — or "skins" — and associated mobile applications with its approval. 
The regulatory revisions require that any uniquely branded online sports pool platform/mobile application offered by an online sports pool operator must prominently display the name of the casino license with which it is linked on its website. 
Saracen Casino Resort in Pine Bluff, Southland Casino Racing in West Memphis, Oaklawn Racing Casino Resort in Hot Springs, and the newly licensed Legends Resort and Casino in Pope County were all granted the go-ahead in 2019 to allow on-premises sports betting. 
The new regulation enables mobile betting anywhere in the state as long as it collaborates with a current gaming license holder and is physically inside state limits. 
The Racing Commission defines online sports betting as an operation in which bets on sporting events are placed over the internet on websites or mobile applications using computers, mobile devices, or other acceptable interactive equipment through a gaming system licensed by the Racing Commission. 
According to the state Department of Finance and Administration, sports gamblers have spent roughly $96 million at the three casinos since July 2019, resulting in more than $83 million in payouts and about $1.74 million in state income.
Last Updated on by Ryan