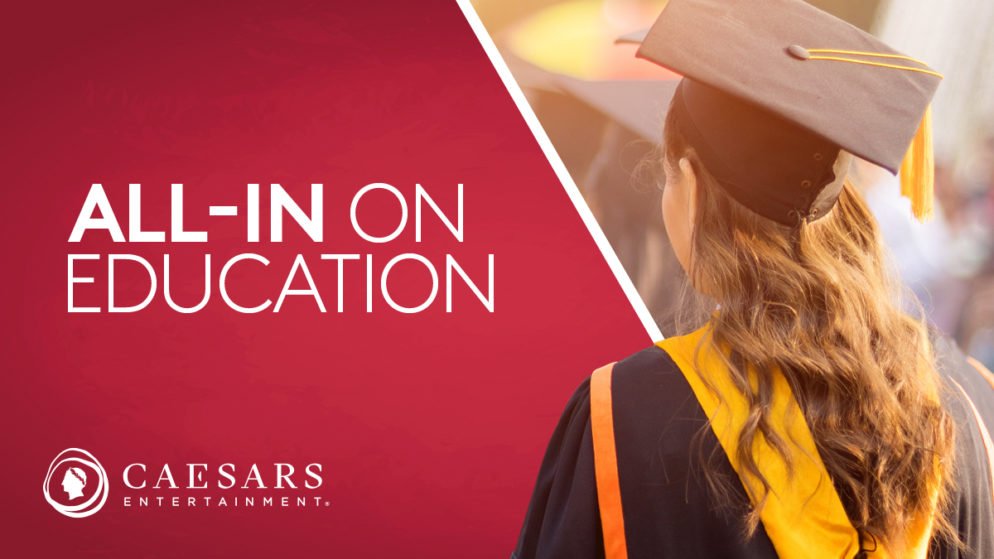 In the land-based gambling sector in the United States, environmental, social, and corporate responsibility are rapidly gaining popularity. Caesars is the latest corporation to attempt to promote employee morale and loyalty. They want you to enroll in school to avoid juggling work and education.
What it Entails
Caesars Entertainment has announced the launch of a new initiative designed to assist about 50,000 employees "on their educational path."
Caesars' new All-In On Education program is intended to assist eligible employees and their families with college costs.
This includes several options for paying off student loan debt, tuition assistance, scholarship chances for dependents, and a 529 college savings plan.
Employees can now get up to $5,250 from In On Education to repay student loans and cover educational expenses. The 529 college savings plan provides employees with tax-advantaged ways to invest for their dependents' education expenses.
In addition to academic assistance, the new service from Caesars provides a list of schools that are part of a network and offer free or low-cost education options through partner institutions.
All-In-On-Education also provides access to the Don Carano Legacy Scholarship, named for the legendary gamer Donald Louis Carano. Several recipients of this merit-based award receive up to $20,000 over four years.
All full-time and part-time Team Members of Caesars Entertainment have access to the program's numerous learning tools. Here are some of the program's most delicate features:
Up to $5,250 each year increase in the amount of money Team Members receives to help pay for education.
A comprehensive list of schools in the network that collaborate with partner schools to provide low-cost or free education alternatives and academic advising tools.
The team members can now get up to $5,250 annually to help pay down their college loans.
A 529 college savings plan allows Team Members to invest in their children's or grandchildren's education fees while receiving tax benefits.
The Don Carano Legacy Grant is a competitive scholarship that awards up to $20,000 over four years to several applicants who are dependents of Team Members.
This award was established in Don Carano's honor to demonstrate his passion for the gaming industry and how Team Members share his family values.
Caesars Entertainment desires to be the top employer in its industry; thus, it provides Team Members with various benefits. In addition to the All-In On Education program, Caesars offers competitive healthcare and wellness benefits, a 401(k) with an employer match, paid time off, family bonding leave, professional development, Team Member discounts, etc.
Caesars to Help You Tackle Your Student's Debt
As a result, the company has unveiled a new program to assist roughly 50,000 of its current employees with college costs. This includes a $5,250 annual increase in student loan payments. Each year, a pupil attends school and takes and passes tests.
All-In on education aims to provide workers with more options and encourage them to continue their education. According to Caesars, the program offers a variety of alternatives, including paying back student loan debt, receiving tuition assistance, and even receiving scholarships and a 529 college savings plan.
Regardless of your opinion, casinos have gone above and beyond their obligations to make their staff feel at home. The 2020 epidemic cruelly demonstrated that irrespective of the size of your organization, if your employees have no motivation to work for you, they will go.
Due to the labor shortage, businesses have realized that they need to invest more money in their staff. Since 46 million Americans currently owe $1.75 trillion in student debt, Caesars would undoubtedly gain from this plan to help individuals pay for college.
Time to Invest in Your Workers
There have been widespread calls to get out of debt and start afresh, and some individuals follow through. Caesars cannot handle the issue on its own, but it may be able to assist in its resolution through its employees.
Nevada and Las Vegas would also gain from encouraging more people to attend school and providing them with the necessary tools to succeed.
A better economy would result from more educated workers and employees. When the economy is poor, providing workers with additional skills and knowledge will make them more adaptable. The added value they bring will allow businesses to retain them for longer rather than furloughing them or letting them go.
Whether for a gym membership or education, investing in your employees is now a standard business practice. Resorts World had reached a significant union agreement with its employees that provides, among other benefits, better health care, more excellent pay, and improved working conditions.
Partnership
Generation's first entertainment training program will provide children in the game business with guided, hands-on experiences. This will bridge the gap between vocational training and employment.
Generation collaborates with Caesar's Horseshoe Casino in Baltimore to establish a new training program for unemployed youth and adults who wish to become table games dealers. Those who complete the program with high grades will be invited to the Horseshoe Casino for a job interview. The unique program will be offered on the Horseshoe campus at no cost to students.
This was Generation's first collaboration in the entertainment industry. The initiative will begin on the 15th of October, and its first phase will target approximately 100 young adults.
Horseshoe will provide students with hands-on experience with table games such as blackjack and carnival games to prepare them for a successful career.
A generation will also instruct kids on professionalism, safety, mathematics, and interpersonal communication. Moreover, students will receive a weekly stipend throughout the five-week program.
This position requires multitasking, performing quick mental calculations, having good hand-eye coordination, and communicating well.
The unique curriculum design of Generation makes it possible to develop a role-specific training program that emphasizes the technical and employability skills that young people need to succeed in a job that might be the beginning of a career.
Students will be deemed temporary workers of Horseshoe Casino and will be compensated $10 per hour for simply attending class. They will also receive a Maryland Gaming License and may be eligible for a $500 bonus if hired after graduation.
In addition to the All-In On Education program, Caesars provides reasonable health care and wellness, a 401(k) with an employer match, paid time off, family bonding leave, professional development, team member discounts, and many other benefits.
Earlier this month, the firm announced that the Pagoda Plaza would house the first betting bar at the Indianapolis Motor Speedway. Caesars will serve as the official sports betting partner of the Indy 500, Indianapolis Motor Speedway, and all 2022 races.
Caesars Sportsbook can now provide its customers with IMGS trademarks and marks, digital and social media assets, and a variety of VIP experiences at racetracks. On the race day, Caesars Sportsbook advertisements will be displayed on video boards, over the public address system, and in the programs.
Last Updated on by Ryan