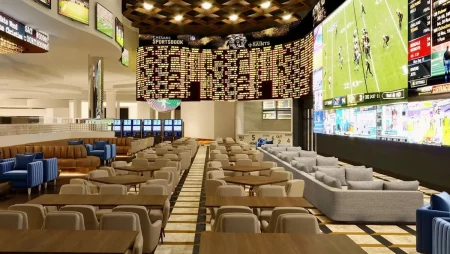 Caesars Entertainment has expanded its presence in Louisiana by opening two additional sportsbooks and a poker room.
Harrah's New Orleans and Horseshoe Bossier City Hotel & Casino featured and acted hosts for the first time as Caesars Sportsbook locations last week.
In addition to betting on sports in person in the newly opened sportsbooks, you can also use the Caesars Sportsbook app. Caesar's officials stated that bettors might profit from speedier payouts, live scoreboards, more in-game wagering alternatives, same-game parlays, increased cashout possibilities, and tens of thousands of new markets from the app.
As part of the company's continuous commitment to Louisiana, Caesars Sportsbooks have opened at Harrah's New Orleans and Horseshoe Bossier City. Harrah's opened Louisiana's largest poker room beside the new World Series of Poker Room(WSOP).
The Poker Room
The 5,000-square-foot WSOP is the largest in the Pelican State. Its massive structure houses 20 poker tables and complimentary beverages at each table. In the poker room, both amateur and professional players will have access to various live poker games.
Dan Real, regional president of Caesars Entertainment, stated, "This was a significant week for Caesars and our commitment to Louisiana over the long haul."
In addition to the 5,000-square-foot WSOP with 20 poker tables, Harrah's New Orleans now features a 5,700-square-foot sportsbook with four betting windows, 12 self-service betting kiosks, a 147-foot TV screen, and excellent sound.
"What Harrah's New Orleans and Horseshoe Bossier City have done for the Gulf Coast is augmented by the launch of our world-class Caesars Sportsbook sites and the new World Series of Poker Room.
We're ready to welcome sports lovers into our sportsbooks. We're thrilled to establish Louisiana's largest poker room, which will be faithful to the WSOP moniker and everything it represents," Real commented.
The WSOP Poker room at Harrah's is open from 10 a.m. to 6 p.m. on Fridays and Saturdays and from 10 a.m. to 4 a.m. Sunday through Thursday. There will be poker tournaments on Mondays, Wednesdays, and Saturdays each week to spice things up. The 2022 POKER GRAS TOURNAMENT SERIES will be held from September 22 to October 2 in the poker room.
The new 6,900-square-foot Caesars Sportsbook at Horseshoe Bossier City features three betting windows, fifteen self-service betting kiosks, over 94 televisions with high-tech audio systems, a VIP viewing area, and a large bar.
The 2024 completion of the $325 million project to transform Harrah's New Orleans into Caesars New Orleans includes the poker room and the sportsbook.
Eric Hession, president of Caesars Digital, stated, "These grand openings are a testament to the people of Louisiana, our Team Members, and the tourists who visit these historic locations."
"We feel like we're on the home team in Louisiana, and we're pleased to serve the wonderful consumers and sports lovers there. We're thrilled to be able to provide our consumers with even greater experiences, such as through our Caesars Sportsbook app, our in-store sportsbooks, and now our enhanced World Series of Poker Room."
Caesars Commitment
Caesars is a leader in responsible gaming because, for decades, it has established accountable gaming standards.
Caesars still intends to invest millions of dollars in Louisiana to create unique sports and entertainment venues. With this commitment, Isle of Capri Lake Charles will become Horseshoe Lake Charles and reopen with a new Caesars Sportsbook location in the coming months.
As Caesars Sportsbook expands into new markets, responsible gambling education remains a primary concern. Caesars Sportsbook collaborates with authorities and the community, so customers in Louisiana have immediate access to reliable gambling resources.
Caesars' commitment to sports betting in Louisiana has resulted in collaborations with the New Orleans Saints, the New Orleans Pelicans, and LSU Athletics. In addition to a 20-year agreement with the Saints for exclusive naming rights to the Caesars Superdome, which will host Super Bowl LIX in 2025.
The firm stated in a press release that it "remains committed to investing hundreds of millions of dollars to provide unparalleled sports and entertainment experiences in Louisiana."
Last Updated on by Ryan