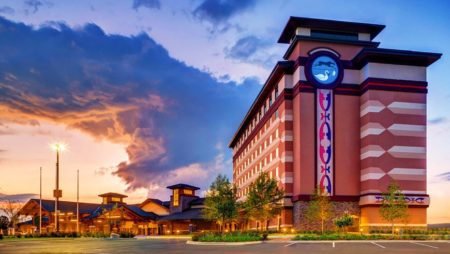 The International Game Technology, IGT extends its cashless gaming solution to an outside commercial partner. The group says it has extended by a minimum of five years to use its automated clearing house system that will make funds through its IGTPay system.
On Tuesday, a press release from IGT said that it "provides players with digital access to funds for cashless wagering."
In a previous announcement, IGT noted that it is now shifting its development focus to venture into casinos cashless technology featuring both land and online casinos. The management noted that this is a way of giving back during pandemic times. 
In today's announcement, IGT stated it is moving the new technology to Oklahoma, one of the US states. It has the highest number of gaming machines per capita. Indigo Sky Casino now marks the latest casino to join the world of cashless gaming. The deal with IGT will serve for 5 years. The cashless technology blends with the Resort Wallet and the IGTPay solution modules from the IGT ADVANTAGE, a casino management system. 
Cashless Gaming Technology
Indigo Sky Casino combines Resort Wallet software management technology with the IGTPay solution. The two systems blend to provide efficient one-step access to funds originating from different sources. The payment system links with debit cards, credit cards, bank account, and other eWallets. 
Melanie Heskett, Indigo Sky Casino general manager, said,
"Enhancing Indigo Sky Casino's IGT ADVANTAGE deployment with IGT's Resort Wallet and IGTPay modules will truly differentiate our gaming experience in Oklahoma and give our guests access to the industry's most user-friendly cashless gaming technology."
She further added,
"As the demand for cashless and contactless payment technologies accelerates in nearly every sector, Indigo Sky Casino is pleased to be an early mover in this space by partnering with our long-time growth partner, IGT."
Ryan Reddy, IGT Senior Vice President in charge of Global Product Management for VLT, Poker Systems and Payments, said,
"In deploying IGT's Resort Wallet and IGTPay, Indigo Sky Casino will benefit from the many advantages of operating a cashless gaming ecosystem, and its guests will enjoy added choice and convenience on the casino floor."
'Cardless Cashless'
IGT is looking forward to an initiation of a full rollout of its IGT's full gaming solution in 2021. The technology operates in different ways, "carded cashless" or "cardless, cashless" gaming—carded cashless options. Carded cashless to allows the player to leverage on their GO Rewards. The card is inserted in the slot where money is exchanged hands. Indigo Sky Casino patrons have the luxury of using its mobile app to make safe and secure payments.
Christopher Justice, president for Global Payment Gaming Solutions, said, 'More than 3.5 million patrons" across relevant businesses "rely on Global Payments' VIP Preferred for simple, secure, and responsible play."
Ryan said,
"Players are more likely to embrace cashless technology when the experience is simple, convenient, and offers a wide range of funding sources, including direct, secure access to their bank accounts."
IGT and Global Payments mutual relationship started back in 2016 through a digital funding transfer method coupled with IGT's lottery products. 
Cashless Resort Wallet and the IGT's Advantage casino management system has a great way to
"help operators modernize the player experience, increase player safety and reduce in-casino dependency on cash handling and in-person interactions." The firmed noted.
The technology through the Global Payments Group will attract over $5 billion in transactions every year. The IGTPay platform has overall access to other player filings other than accounts.  
Last Updated on by Ryan