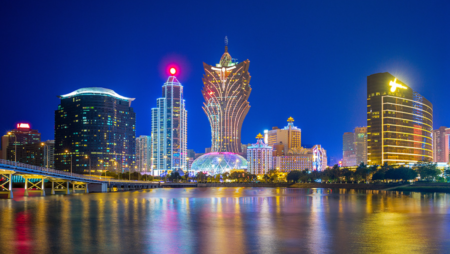 On Monday, shares of firms that operate casinos in Macau rose by much to 13 percent after the city's governor said that mainland travelers would again be able to use e-visas and China would permit group excursions. This could attract more people to the most prominent gambling destination globally.
In November, according to city officials, travel restrictions will be eased. The South China Morning Post reports that mainland gamblers spend almost 90 percent of their income in Macau casinos. VIP guests spend roughly 70% of that amount, demonstrating the importance of making it easy for them to visit.
Macau is the only area in China where gambling is permitted, and the former Portuguese colony formerly had more wagers per month than Las Vegas.
However, China's strict zero-Covid regulations have eradicated the gaming business, harming the city's economy and one of its primary revenue sources.
In November, the Chinese special administrative territory expects to reopen to mainland tour groups for the first time in over three years, according to the city's chief executive of Macau, Ho lat Seng.
Back in Business
Ho stated at a news conference on September 25 that the central government will support the gradual reintroduction of group tours to Macau and the resumption of electronic visas under the facilitated individual travel plan.
Ho stated that he requested approval from mainland officials because Chinese tourists are vital to Macau's economy.
People in four provinces and one city (Guangdong Province, Zhejiang Province, Jiangsu Province, Fujian Province, and Shanghai) will be required to adhere to the two guidelines initially.
On Monday, each city's six licensed casinos earned more than 10% profits. Sands China shares rose over 18%, SJM Holdings shares rose approximately 14%, and Wynn Macau shares rose around 10%.
Ho believes that more mainland tourists must visit Macau immediately with the easing of the travel restrictions.
As this type of travel was now permitted to return to the city, he emphasized the importance of maintaining good work in managing and preventing epidemics so that the city's anti-epidemic measures would be identical to those on the mainland.
Ho explains that initially, Guangdong, then Shanghai, Zhejiang, Jiangxi, and Fujian will relax their regulations for tour groups. Macau believes the measure will increase the daily tourist count to 40,000 from 11,000 in August.
Following Hong Kong's Steps?
John Lee, the leader of Hong Kong's government, announced on September 23 that people entering the city would no longer be required to stay in a hotel quarantine.
On September 26, visitors must undergo a PCR and health screening. They will not be able to enter pubs or restaurants during this period, but they will be able to walk about Hong Kong.
Macau will not follow Hong Kong's lead that international travelers will no longer be required to stay in quarantined hotels.
Instead, most foreigners would be prohibited from visiting the city, and hotels would be required to remain in quarantine for seven days.
Hong Kong's population has declined significantly over the past year due to China's harsh COVID policy and limitations. Businesses have also gone to countries that loosened restrictions much earlier, eroding Hong Kong's position as a thriving financial hub.
Even if all of these regulations were eliminated, it is unlikely that Macau's casinos would return to their wild, unregulated past.
We believe that more travel restrictions in China will lead Macau's GGR to decline by 80% compared to September, before the outbreak.
Macau has reopened its borders to 41 nations, but mainland China remains the city's primary source of tourists because it is the only place where quarantines are minimal.
Last Updated on by Ryan