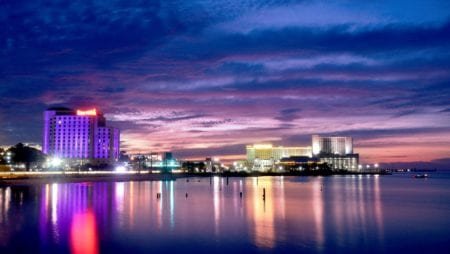 Genting Group Chairman K.T. Lim is optimistic on the U.S. consumer confidence in the casino market with the rollout of the Covid -19 vaccinations nationally. There's been a decline in death cases too. Genting's has a wide range of business ventures ranging from cruise ships to plantations. The company held a grand opening ceremony of the Resort World Casino in Las Vegas last Thursday. Resorts World was the company's newest Strip over a decade ago.
While speaking to Bloomberg television, Lim said that "There's unmet demand as people had stayed home for so long and now the increase in vaccination and falling cases have given consumers the confidence to spend again." He added that the Genting Group is "super confident" in its U.S. investments; the company is ready to have the business listed once the numbers increase with improved investor confidence.
Resort World is a $4.3 billion investment in the heart of America's gambling capital that closed for over three months in the wake of the Coronavirus pandemic last year. The company's development was unbeatable, with visitor numbers in April remaining 27% below the same month in the year 2019.
The Move marks an excellent step for Genting Group which brings potential fortune in its other casino projects spread within the country. Lim said that "the large investment was made some time ago when we acquired what we see as the best piece of real estate on the L.A. boulevard, and when the economy slowed, and Covid-19 hit, we were sure we didn't have to pause our construction work…now we are coming out of it, and we are very well placed."
'Super Confident' Attitude
Resorts World in Las Vegas, Nevada, opens the 3500 hotel roomed facility and houses a 5000 seat theatre with a super-confident attitude. It will have 1400 slot machines, and international celebrities like Celine Dion and Katy Perry will perform later after the grand opening. The casino is expected to generate revenues to the highs of $300 million annually before taxation, depreciation, amortization, or interest.
Genting Group has had unbalanced fortunes with its other casino businesses and, more so, the Asian gaming market. It has a risky bid on the Malaysian digital banking permit, which is still under consideration. The company's Hong Kong business is facing a restructure and will soon announce the project's fate. Mr. Lim noted on Friday that he was "cautious" of the Malaysian company. He also said that there is "limited" growth in Malaysian Gaming Industry.
Like other casinos elsewhere, Resorts World Sentosa casino's business has also faced disruptions during the adjustments in adherence to the Covid restrictions. The entire facility had closed entirely in May during the temporary shutdown but now operates at a reduced 50% capacity.
Possible Listing in the Stocks Market
After announcing the first-quarter results in late May, brokerage Nomura announced a notice to reduce 2021 earnings estimates for Genting Singapore Ltd. In a press release, Nomura quoted, "seasonal weakness, tapering government support for wage subsidy… recent return to a stricter phase 2 of Covid-19 containment measures, as well as setbacks in managing Covid-19 across several Asian countries recently." The brokerage company used its Asia counterparts as a benchmark for perceived industry growth. The Las Vegas facility, however, is quite promising.
During the Resorts World launch, Genting Group quoted clear aspirations to grow the U.S. market. The company may seek a listing in the stock exchange listing following the growing U.S. assets. The company boasts of the $4.3 Las Vegas facility and recent waterfront land in Miami, which has a potential market though still not clear whether they will open a similar investment there. Lim said, "However, all will depend on the success of Resorts World Las Vegas."
Last Updated on by Ryan