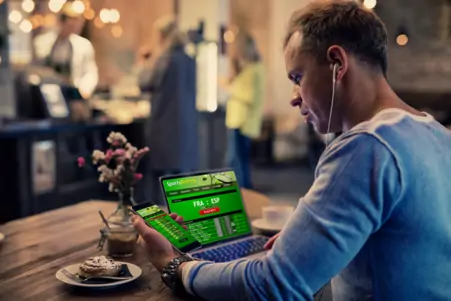 Maryland gaming regulators plan to have mobile betting available in the state before the start of the National Football League season in 2022.
Fans will be allowed to wager on professional and college games on their phones if regulators succeed, a development that is sure to supercharge the state's young and yet sleepy sports betting business. Mobile betting has surpassed brick-and-mortar betting in practically every state that has authorized sports betting, accounting for around 90% of the total volume.
Also true almost everywhere: The big-name companies, the ones with the enormous advertising expenditures, get the lion's share of the activity — and, as a result, the profits.
After voters legalized sports wagering in 2020, the General Assembly tried to avoid a scenario in which FanDuel and DraftKings, the Coke and Pepsi of sports betting, dominate. Maryland, more than any other state in the country, has gone above and beyond to help minority- and female-owned firms break into the new market, according to experts.
How is the State Going to Help the "Little Guys"?
The state's Sports Wagering Application Review Commission is organizing an instructional session in early May as part of its duty to provide Maryland-based and minority firms a chance to participate.
Industry professionals who have successfully negotiated regulatory and financial challenges will speak at the three-hour session. This will be very informative because they will be giving looks into the challenges of the future of sports betting. This is key for the population because of the vast amount of knowledge that you need prior to opening a sportsbook.
Other specialists will speak about the financial expenses of running a sportsbook, as well as security concerns and "competitive promotions' influence."
According to experts, the promotions given by FanDuel and Draft Kings are likely the most significant stumbling block for newbies to the market. The corporations have proved efficient at wooing new clients thanks to their vast money and years of marketing experience.
Promotions sometimes provide "risk-free" wagers worth thousands of dollars for first-time consumers. Tennessee Action 24/7 is one of the few homegrown operators still fighting for bettors' money, but the company is "far down on the market-share list," according to Hall.
"They've managed to stay alive thus far, so it's not impossible. But the thought that they might go head-to-head with FanDuel or Draft Kings and win is unthinkable right now."
Tennessee Action 24/7 had an edge that no other Maryland company had: they were approved to start operating in November 2020, when sports betting became legal.
Because existing casinos and racetracks were already severely regulated, Maryland's law established a multi-tiered procedure in which they might begin first.
Entrepreneurs who want to open brick-and-mortar or online sportsbooks in this city will have to wait months for approval, giving better-known competitors a month's head start.
Look at How Businesses Succeed
Barnes understands how difficult it is for homegrown businesses to succeed. He is the opening speaker for the May 6 seminar, which he helped arrange.
Minority company owners, according to Barnes, must be cognizant of the capital requirements "and to really find out what meaningful partnerships look like in a way that we're still creating some ownership for minorities to generate generational wealth."
New firms in Maryland have access to four programs that might help them repay some of their startup expenditures. On Thursday, SWARC members were informed that two firms had received three awards from the funds thus far.
The State Lottery & Gaming Control Agency's regulatory division's deputy director, James R. Nielson, told the panel that some newcomers are finding the application procedure time-consuming.
Last Updated on by Ryan