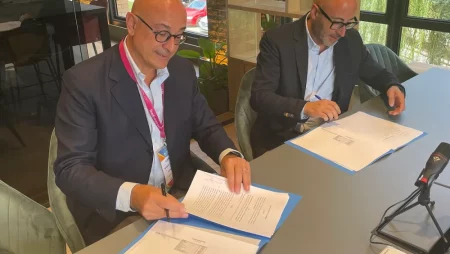 MGA Games, which specializes in creating unique slot titles for operators worldwide, has established an agreement with Microgame, Italy's leading content aggregator and B2B provider, to distribute its greatest games to Italian online casinos.
Each company has more than 20 years of experience in the gaming industry, so players and operators will have access to unique content on both mobile and web platforms.
Microgame acquired the content firm Active Games in 2016. This boosted its business-to-business reach and improved the operation of both primary enterprises.
People's Srl, a gaming concessionaire, and Nuova Pianeta Scommesse Srl, a land-based gaming company, were also incorporated early in 2017. This further expanded and strengthened Microgame's foothold in the Italian gaming industry.
To New Beginnings
Joan Sanahuja, CEO of MGA Games, and Marco Castaldo, CEO of Microgame, inked the agreement at MGA's Barcelona offices.
Sanahuja stated that the new partnership is a significant milestone in the company's expansion strategy in the Italian market. He also noted that the country boasts Europe's second-largest gaming market.
"This deal is a significant milestone in our plan to expand into Italy, the second largest regulated market in Europe," he explained.
Sanahuja believes that Microgame is the ideal partner. The chief executive officer of MGA Games stated that the company is thrilled about the new agreement as it prepares to join the Italian market.
The agreement, made public last week, would result in the sale of MGA Games' products in Italy. Under the terms of the new deal, Microgame will provide the finest MGA Games products to the country's online casino operators.
This agreement might begin a long-term, mutually beneficial cooperation in Microgames' home markets. MGA Games' "Italian Celebrities" series will initially be accessible to online casinos on the Microgame network.
MGA Games' forte lies in their ability to "star" local celebrities from all over the world in their slots, video bingo, and table games for local markets.
The organization serves more than a dozen international markets, primarily Spanish- and Latin-speaking countries. It works with DJs in Colombia, iconic Spanish media characters, and Portuguese celebrities such as Chef Chakall.
The developer's new Italian Celebrities portfolio is included, along with previous slot games that have been modified. As a result of the deal, more than fifty Microgame clients will have access to the exclusive repertoire.
Marco Castaldo, the CEO of Microgame, was enthusiastic about the new alliance. He admitted the company is pleased to be the first to sell MGA material in Italy.
Castaldo continued by stating that MGA Games has exclusive material, such as regional services, that is ideal for the country's iGaming industry. He believed that the new cooperation would expand Microgames' game catalog.
"We are confident that this new relationship will assist Italians recognize that our offering is the most comprehensive in the country's gaming market," he said.
MGA Secures Another Partnership
Microgame is the market leader in iGaming in Italy and the first company to achieve this position. Monitor Clipper Partners and Texas Pacific Group, which collectively oversaw approximately $70 billion in managed capital, were added to the company's financial structure in 2012. This strengthened the company's financial position.
This month, MGA Games announced a new business collaboration. The company partnered with Fair Play Casino and began offering its games to Dutch clients.
Pascal Janshen, the Business Development Manager at Fair Play Casino, spoke of the new deal; "We are thrilled to be the first operator in the Netherlands to work with MGA Titles, and we are eager to provide their games to our player."
"Dutch players are recognized for their fondness of older games, and the Megaways series is growing in popularity. Therefore, we are confident that both Fair Play and MGA Games will benefit greatly from this relationship."
As part of its agreement with Fair Play Casino, MGA agreed to provide ten games, albeit this number may increase in the future. This agreement allowed Fair Play to offer additional material and helped MGA expand its European business.
Last Updated on by Ryan