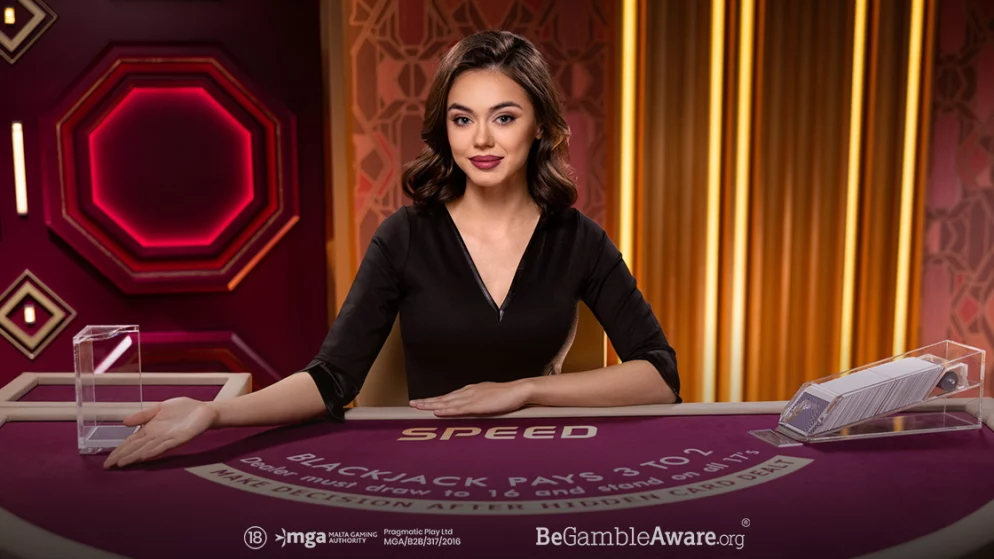 With the addition of Speed Blackjack, Pragmatic Play strengthens its presence in the iGaming market and the live casino portion of its portfolio.
The most recent live dealer game demonstrates that the casino's objective is to provide players with an all-inclusive live gaming experience that they choose over other possibilities.
Live Dealer Games to Be Launched with 888 Casino
888 Holdings and Pragmatic Play have announced a new agreement to collaborate on Live Dealer games and direct slot integration. 888 Holdings and the developer have agreed to offer the developer's Live Casino and slot games to 888 Casino.
You may already know that 888 Holdings, a well-known provider of leisure and gambling services, operates 888 Casino.
On the other hand, Pragmatic Play is a leading software developer that produces slots and, more recently, Live Dealer games. When you combine the two, many players will be pleased.
With 888 Casino, the developer's expanding library of Live Dealer games will be made accessible for the first time.
This implies that your preferred online casino will provide your selected games, such as Baccarat, Roulette, and Blackjack, with fast variations and many new games.
The addition of Pragmatic Play slots and Live Casino games would significantly improve 888 Casino's content and allow future collaboration.
888 Casino has already implemented the developer's native API. This is because it has previously enjoyed great success with video slot games. Now, players will have direct access to the developer's slot game catalog.
New premium titles will be added each month. There is no doubt that 888 Casino customers will be pleased with this offer since it will provide them access to a far more extensive selection of slots and Live Dealer games.
Players would like to try their luck with Pragmatic Play's games because they are entertaining, current, and lucrative.
A prominent name in the iGaming sector, Pragmatic Play has expanded its selection of live casino games across numerous categories. Live Blackjack, Live Baccarat, and Live Speed Baccarat are available.
Ruby Studio is a new live casino game studio created by Pragmatic Play. Fifteen additional live blackjack tables are available for usage by operators and players at the Ruby Studio.
Ruby Studio's live blackjack games' new and upgraded functionalities and features enhance their appearance and gameplay.
The opulent Ruby Studio exudes a sense of grandeur, elegance, and exclusivity. Players can converse with courteous, professional live dealers in a tranquil environment. Live gaming technology enables players to view real-time blackjack games on their screens.
There are no rest periods. There are no rest periods. Nobody must wait. Live blackjack gamers can choose from various side bets, including 21+3 and Perfect Pairs.
"Early Decision" and "Bet Behind" are two of the new actions you can take in the game. With the multiplayer feature, you can play an unprecedented number of cards in real-time.
Speed Baccarat Gets a Boost
Live Speed Baccarat is one of the quickest live-dealer card games available. As a result of Pragmatic Play's addition of two more tables to the Speed Baccarat option, players can now experience twice as much enjoyment.
Therefore, you can play different games and have more fun throughout each session. It takes around 27 seconds to complete a live speed baccarat game. There are only 12 seconds for betting. After the betting period has concluded, the players get their cards to face up.
Live Baccarat Gets Another Table
Live Baccarat players also have access to an additional live table. In Regular Mode, all Live Baccarat Tables are accessible to players. They also have the option of playing in No-Commission Mode.
A side wager is known as "Super 6" pays out if the Banker defeats the Player by six points. Other than the Super 6 Side Bet, which pays 15:1, every different outcome is a loss. These Live Baccarat features will be accessible beginning on Wednesday, February 23, 2022.
Customization Available with Chroma Solutions Technology
Several Pragmatic Play Live Dealer Games utilize Chromo Solutions' technology. This enables the personnel operating the live casino tables to tailor them to the clients' needs.
Pragmatic Play's objective is to exceed customer expectations by providing customized gaming solutions via live casino games. Over 200 live casino games utilize 4K cameras and are fully HTML 5 compatible. The award-winning games from Pragmatic Play immerse players in the experience.
Currently, Pragmatic Play creates approximately five new slot machine games per month. It also offers various games, including bingo, live casino games, and virtual sports. Through a unified user interface, its numerous attractions are easily accessible.
Speed Blackjack Brings Unique Twist to Traditional Game
With the advent of Speed Blackjack, Pragmatic Play modifies the original and adds side bets, auto-decisions, and a faster tempo of Play to accommodate current players' demands and desires. The game is part of the premium segment being developed by Pragmatic for its partners.
According to Pragmatic Play, the auto options in the Speed version will shorten the game by up to 30 percent, allowing players to play more hands and, if desired, play for less time overall. The auto-decisions feature is a unique, customizable tool that optimizes performance based on how a person plays.
Pragmatic Play has also worked on the game's aesthetics to ensure that the user interface (UI) can keep up with the game's quick speed and keep players engaged.
The game is streamed from Ruby, a new Pragmatic Play studio with VIP and standard blackjack tables and the most advanced live game streaming technologies.
Statements by the Two Parties
Guy Cohen, 888's SVP of B2C, remarked that the developer's range of games across several products was excellent.
The entire organization was delighted to offer its content via direct integration. He stated that the relationship increased the variety of material already available at the casino and that they were particularly delighted to enhance the Live Casino experience for all 888 Casino players.
The Chief Commercial Officer of Pragmatic Play, Melissa Summerfield, stated that 888 Casino was one of the most engaging operators on the market. Therefore, everyone at Pragmatic Play was ecstatic to immediately connect their Live Casino and slot products with 888 Casino.
Summerfield stated that everyone at Pragmatic Play was committed to working well with large operators in regulated markets around the globe and that this arrangement was merely another step in that direction.
Last Updated on by Ryan