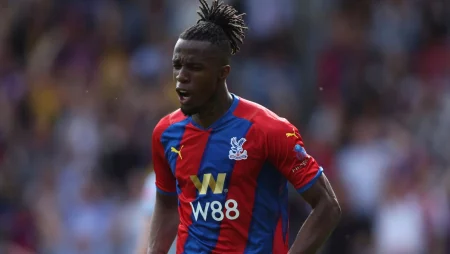 Crystal Palace, a Premier League football team in the United Kingdom, is rumored to have confirmed that remote vehicle purchasing service Cinch will replace Asia-focused online casino and sports betting company W88 as its official jersey sponsor beginning with the upcoming season.
According to an article published by The Daily Telegraph on Thursday, the move comes as many in the business community anticipate that the government of Prime Minister Boris Johnson would soon prohibit all online gambling companies from sponsoring elite sports teams.
This could be proposed in a forthcoming "white paper" regarding the 2005 Gambling Act changes. If approved, it may be implemented as early as the summer.
New Sponsors
The move comes as the Premier League prepares to prohibit gambling companies from being jersey sponsors, affecting many clubs.
Before Crystal Palace chose Cinch, nine of England's twenty top-flight football teams had betting sponsors on their shirts.
It is unclear whether the government's proposed ban influenced the club's decision to withdraw W88. It's not addressed in Crystal Palace's press statement. Still, it's not unreasonable to assume that the ban played a factor in the Eagles' decision to adopt a non-gambling-related moniker.
Following the multi-year agreement, the Cinch logo will appear on the shirts of both the men's and women's teams. Crystal Palace has also appointed Cinch its official training gear partner, granting the company "significant brand exposure" via the club's academy teams, Selhurst Park stadium, and digital platforms.
According to Barry Webber, the Commercial Director of Crystal Palace, Cinch is a well-known, family-friendly, and instantly recognizable brand throughout the UK and internationally. This historic relationship is evidence of the club's expansion off the field.
We are preparing to begin our tenth consecutive Premier League season with a roster full of worldwide superstars, making this a really exciting time to begin a partnership."
Avril Palmer-Baunack, chairwoman of Constellation Automotive Group, which owns Cinch, stated that they are looking forward to working with the teams, supporters, and local community to ensure the club's success next season.
Comprehensive Company
In 2005, after reviewing the Gambling Act, the government determined that Premier League clubs could not have gambling sponsors on the front of their shirts. This was included in the draft of a white paper.
There are continuous discussions regarding whether other premier league clubs will follow Palace's lead and allow groups like these to their own devices.
Leeds United, West Ham United, Newcastle United, Wolverhampton Wanderers, Southampton, and Brentford are more clubs with betting sponsors on the front of their shirts.
Burnley and Watford have them as well, but because they were relegated, they have no restrictions. The government is likely to assist financially struggling English Football League clubs.
There are no such sponsors for the Championship play-off finalists Fulham, Bournemouth, Nottingham Forest, or Huddersfield Town.
Crystal Palace, headquartered in Croydon in south London, is rumored to be the first Premier League football team to reject sponsorship from an iGaming company. Other elite teams are discussing how they can follow suit if they choose.
Two-year tenancy
In the previous 20-team Premier League season, Crystal Palace finished in 12th position. According to reports, the squad has entered into a marketing agreement with W88 that would extend until August 2020. Constellation Automotive Group Limited owns Cinch.
According to claims, Cinch sponsors the Northampton Saints rugby team, the Scottish Professional Football League, and the England national cricket team.
Enlightened Enterprise
According to Barry Webber, the Commercial Director for Crystal Palace, commonly known as "The Eagles," the Cinch brand is "well-established, family-oriented, and instantly identifiable" to customers worldwide. He allegedly added that the "landmark connection" with the car sector is "another indication of progress" for his side and its tens of thousands of supporters.
According to the Daily Telegraph, Webber said this was a very exciting time for their association to begin. They are entering our tenth consecutive season in the Premier League with a team full of international talent. Cinch is continuing its remarkable development and innovation in the car industry.
Growth Goal
The Palace sponsorship is the most recent example of sponsorship in British sports. The corporation sponsors the England cricket team, the Northampton Saints, and the Scottish Professional Football League.
Avril Palmer-Baunack, chairman of Constellation Automotive Group Limited, told the newspaper that her company is delighted to join Crystal Palace as a front-shirt sponsor to aid its expansion in the British automobile market.
The Ditch
Authorities are under increasing pressure to reduce the abundance of betting advertisements during games. These advertisements are displayed on shirts, pitchside boards, tournament titles, stadiums, and other club collaborations.
During the 2021-22 Premier League season, betting companies sponsored nine teams: Palace, Leeds United, West Ham United, Newcastle United, Wolves, Southampton, Brentford, Burnley, and Watford.
According to activists, the amount of advertising in the game is disproportionate to the number of children who regularly watch it.
James Grimes, the founder of the campaign organization The Big Step, asserts that millions of young people around the globe like football. However, there is no need to expose children to a substance that causes addiction, harms millions of individuals, and kills hundreds of Americans each year.
Gambling businesses exploit football to make their products appear more popular, mainstream, and cool.
The government has opted to pass legislation in response because the Premier League and Football League (EFL) do not want clubs to sign contracts with betting companies. According to the two groups, there is no evidence that gaming sponsorship causes problem gambling.
The EFL, sponsored by Sky Bet, asserts that a ban on gambling sponsorship would cost teams £40 million annually and that losing this source of revenue would significantly impact leagues that are already struggling financially.
It is expected that the government will spare Championship clubs from any ban, at least for now. It may also employ a phase-out strategy for all non-Premier League teams.
On the other hand, Grimes has attempted to get the government and football officials to restrict gambling advertisements in the sport further.
A prohibition on shirt-front advertising, according to him, would be a significant recognition of how deplorable gambling advertising is. Still, it would be a very foolish policy on its own.
Roadside advertisements for gambling are larger, more visible, and more prominent so that they may be more hazardous. Due to stadium advertisements, club agreements, and league sponsorships make it impossible to watch a game in any of the top five English men's leagues without seeing a gambling advertisement.
According to Grimes, this is incorrect because it endangers the health and life of young fans and those of us attempting to quit or remain stopped from gaming. As a result, the government should prohibit advertising for gambling in football at all levels.
Last Updated on by Ryan