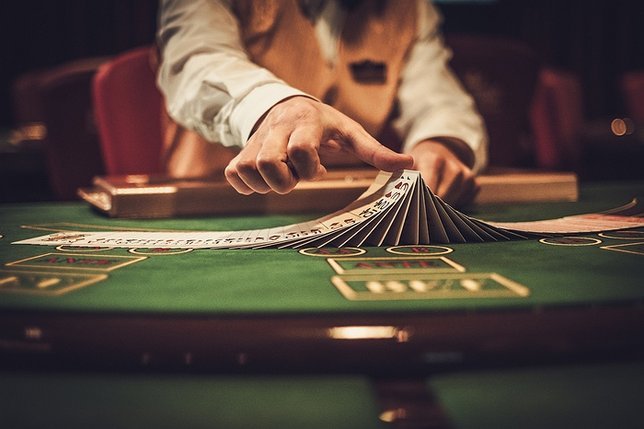 The Shinnecock Indian Nation is increasing the stakes on its proposed casino, hoping to win authority to develop a Las Vegas-style gambling complex off the coast of Southampton. 
Tribal leaders were among 31 organizations that responded to the New York State Gaming Commission's call for information last month to evaluate interest in three Class III gaming facilities which are full-fledged casinos with live dealers. These could be granted next year in the downstate region. 
Return to Action
Shinnecock chiefs revealed their third effort to create a casino on tribe land in Southampton about a year ago, albeit a Class II gaming facility limited to slot machines and electronic gaming tables with no live dealers, similar to Long Island's only other casino, Jake's 58 in Islandia. 
The three downstate contracts were among seven statewide casino contracts approved by New Yorkers in a 2013 referendum that altered the state constitution for the first time to enable non-tribal casinos. Long Island residents overwhelmingly approved the initiative, with two-thirds of the vote in favor. 
The state received approval from 57 percent of voters across the state. 
The Shinnecock, which cleared five acres of ground for a casino on tribal land in 2003 and then tried to restart the project after receiving federal recognition a decade ago, is hoping for a third time lucky. 
Only environmental permissions for the facility planned on its site stand in the way now that it has received approval from the National Indian Gaming Commission. 
Shinnecock's Potential Revenue
Tribal authorities did not reveal their hand on the revenue the casino is likely to earn, despite being expected to significantly improve the tribe's finances. The Shinnecocks intend to use the money to benefit the community's historically disadvantaged residents. 
However, King warned that supply chain concerns caused by the coronavirus epidemic could delay construction, which he expects to begin this year and take 18 to 25 months to finish. 
The casino is one of numerous revenue-generating ventures that the Shinnecock is working on. It is now battling the state Department of Transportation over a pair of electronic billboards that the tribe has labeled monuments located on tribal land on either side of Route 27. 
It also plans to launch Little Beach Harvest this year, which will most likely be Long Island's first legalized recreational marijuana dispensary. 
The tribe also approved the construction of a 200-room hotel-resort and convention center and a petrol station and convenience store on its Westwoods property in Hampton Bays, which is near to the billboards, last summer. 
On the casino plan, the Shinnecock is collaborating with Tri-State Partners. Neighbors and local officials have expressed concerns about how a casino in Southampton will exacerbate the notorious gridlock that clogs the two-lane Montauk Highway, particularly during the summer tourist season. 
The Sports Betting Market
The tribe's plea came days before the state approved DraftKings, Caesars, FanDuel, and Rush Street Interactive to begin accepting bets on January 8. New York became the largest state to authorize online sports betting, and it is now one of 18 states where placing sports bets remotely through internet sportsbooks is permissible. 
In 2019, New York legalized on-site sports betting at casinos. New York has very recently also adopted the ability to bet on sports online as well. 
This has only increased the perceived pressure to gain a downstate casino. Adding another casino in New York will only create more opportunities for those surrounding the community. 
The additional attraction of tourists will also be a welcome to those in New York as they utilize their tourist spots very well. 
Look for this casino idea to continue to gain steam over 2022.
Last Updated on by Ryan